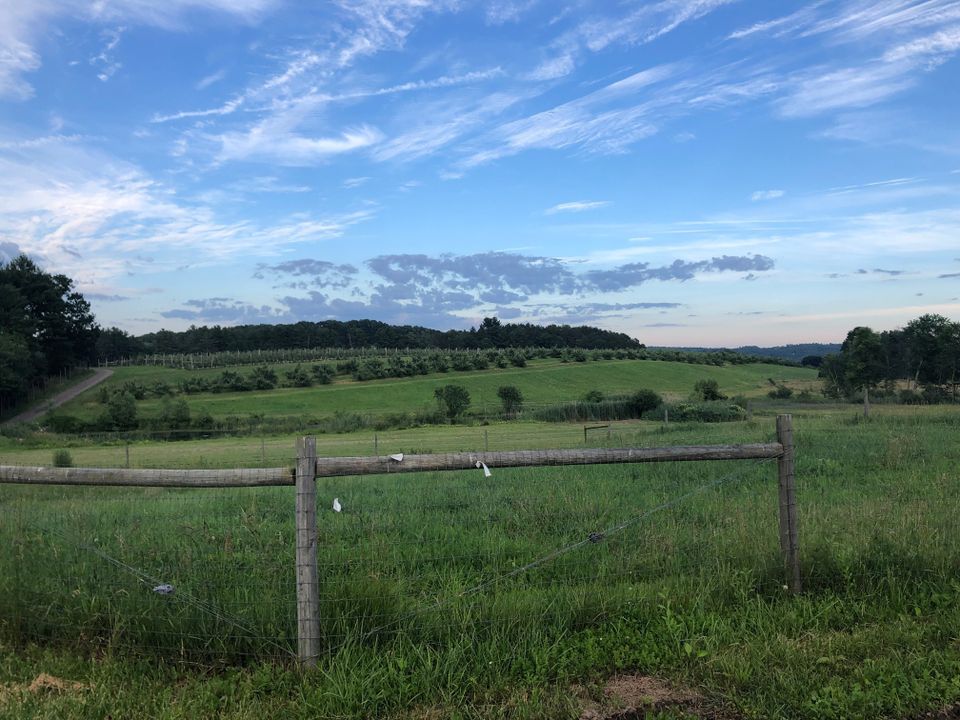 State and Local Partners Team Up to Conserve Prospect Hill Community Orchard
HARVARD
:
A collaboration of local government and nonprofit organizations has set an ambitious goal to permanently protect 70 acres of Prospect Hill Community Orchard.
Rising 500 feet above the surrounding countryside on Prospect Hill Road, the orchard has long been part of the agricultural fabric of the region. Its current owner is Community Harvest Project (CHP), a nonprofit farm that grows and donates fruits and vegetables to area food banks. CHP also creates a sense of community by recruiting hundreds of volunteers each year to harvest and sort the produce for distribution.
To fund an endowment that will ensure the future of this mission, CHP has agreed to sell an Agricultural Preservation Restriction (APR) on the property to the Massachusetts Department of Agriculture (MDAR) and the Town of Harvard for $2.5 million. The APR, which will become part of the deed, will prohibit development of the orchard and will require all future owners to use the land for agriculture.
MDAR has committed
$1.239 million to the purchase of the APR, while
the Town of Harvard will contribute at least $300,000.
The project is receiving fundraising support from Harvard Conservation Trust (HCT) and Sudbury Valley Trustees (SVT), two nonprofit land trusts that conserve natural areas and farmland in the region.
CHP is also applying for grants to offset part of the purchase price.
An anonymous donor has provided a big boost to the fundraising campaign by agreeing to contribute $125,000 if the project team can raise $375,000.
"SVT is delighted to be part of the effort to protect this orchard," said Christa Collins, SVT's Director of Land Protection. "In addition to saving a source of locally grown produce, we will plug a hole in an important corridor of conservation lands and wildlife habitat."
Michael Morton, President of HCT added, "T
he Harvard Conservation Trust is excited and committed to protect this historic orchard in our town that has been in operation for over 100 years. It's a critical property known for its prime agricultural soils, ecological significance, and proximity to adjacent open space, wetlands, and streams."
Prospect Hill Community Orchard sits amid several large conservation areas, including the Town of Harvard's Dean's Hill Conservation Land, the Fruitlands Museum owned by The Trustees of Reservations, and the Oxbow National Wildlife Refuge that reaches into Ayer and Shirley.
Left unprotected, the orchard could eventually be developed for commercial and residential use, which would encroach on the ecological properties of the surrounding lands. P
ermanent protection of the orchard, however, will allow wildlife to more easily roam between these lands in search of nesting habitat and food.
"Community Harvest Project is thrilled to work with so many great local partners to ensure this land is protected in perpetuity,"
said Tori
Buerschaper, Executive Director of CHP. "Protecting this land provides habitat; green space for the community; local volunteer, leadership, and team-building opportunities; and a consistent supply of fresh produce to the hunger relief network."
Buerschaper noted that in 2021, 1,031 volunteers served 3,041 hours at the orchard. The orchard donated 189,000 pounds of apples and peaches to 23 organizations spread across Harvard, Acton, Ayer, Clinton, Devens, and Townsend.
Hikers also should be pleased to learn that CHP plans to grant a permanent easement for a trail that will run alongside the orchard property and connect to a trail network on adjacent lands.