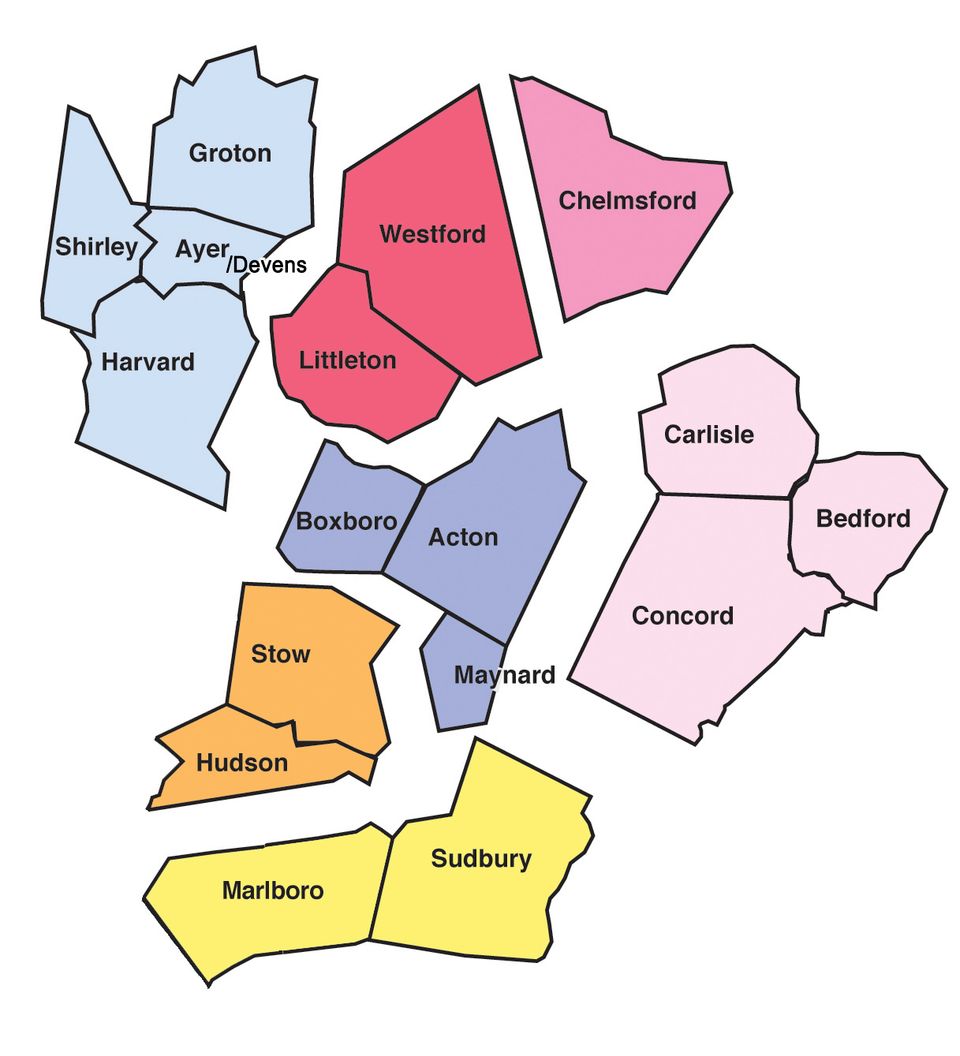 Seven (7) Regions to Choose From
Acton Edition / Circulation
01720 Acton / 7,096
01719 Boxboro / 2,125
01752 Maynard / 3,501

Ayer/Groton Edition / Circulation
01432 Ayer / 3,289
01434 Devens / 274
01450 Groton / 1,159
01451 Harvard / 1,308
01464 Shirley / 920

Chelmsford Edition / Circulation
01824 Chelmsford / 5,284

Concord Edition / Circulation
01730 Bedford / 2,594
01741 Carlisle / 852
01742 Concord / 3,737

Hudson Edition / Circulation
01749 Hudson / 2,429
01775 Stow / 2,679

Marlboro/Sudbury Edition / Circulation
01752 Marlborough / 3,332
01776 Sudbury / 1,637

Westford/Littleton Edition / Circulation
01460 Littleton / 2,803
01886 Westford / 6,315
Updated 3/25/2022 *Advertisers are welcome to verify our current circulation by viewing our postage bills at our Concord, MA office. Appointment is required.
Print Advertising Rates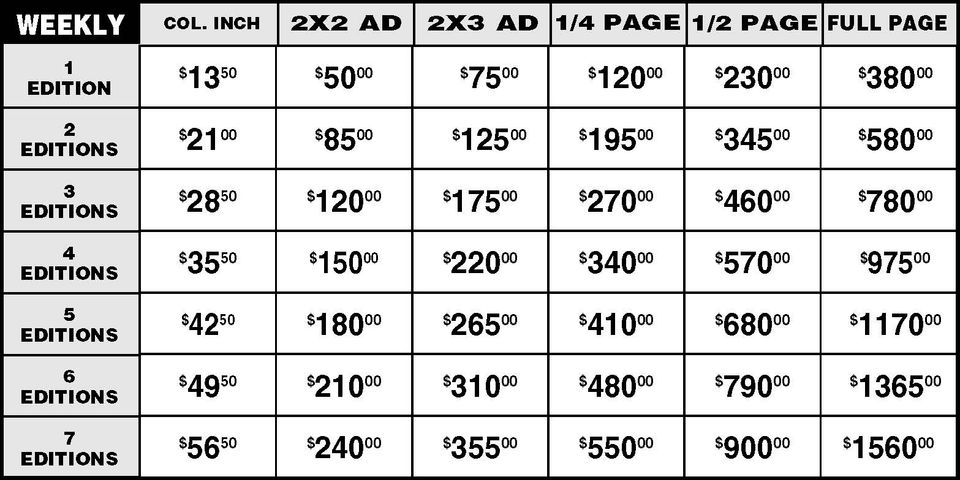 Discount Policy
Minimum Size - 2x2

Automatic discount when you bundle editions/week.

10% after seven (7) consecutive weeks (contracted in advance).

20% annual discount running weekly. Payable in advance.

Discount programs exclude covers, page 2, page 3 & page 5
PLEASE NOTE: Pricing does not include color charges per edition. New Prices Effective 1/01/2023
Ad Sizes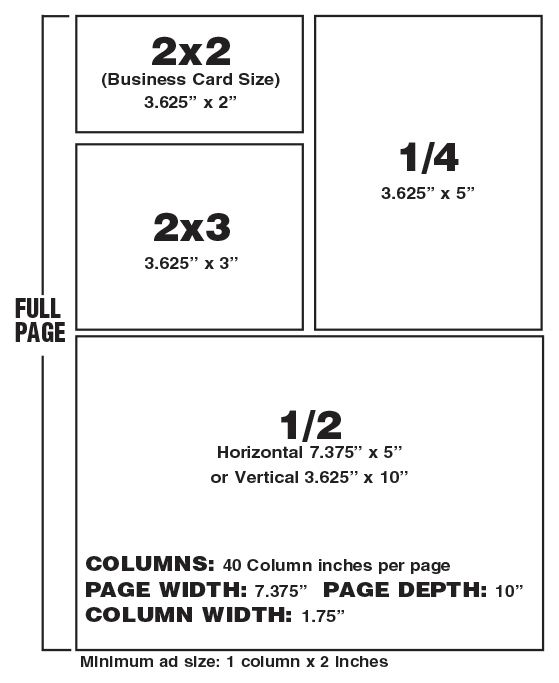 ** Ad layout services by our award-winning design team are provided at no extra charge.
Additional Print Options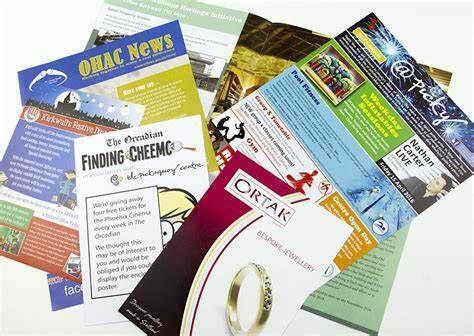 Inserts
Distribution or printing & distribution available by request. The Action can run your postcards or bulk pieces in our paper at a cost much less than that of using the post office for direct mail.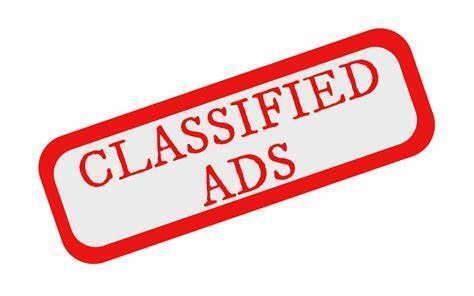 Classified Ads
Classifieds are just $25 for the first ten (10) words, then .50 cents for each additional word.  You can even HIGHLIGHT your Classified in yellow to stand out from the crowd!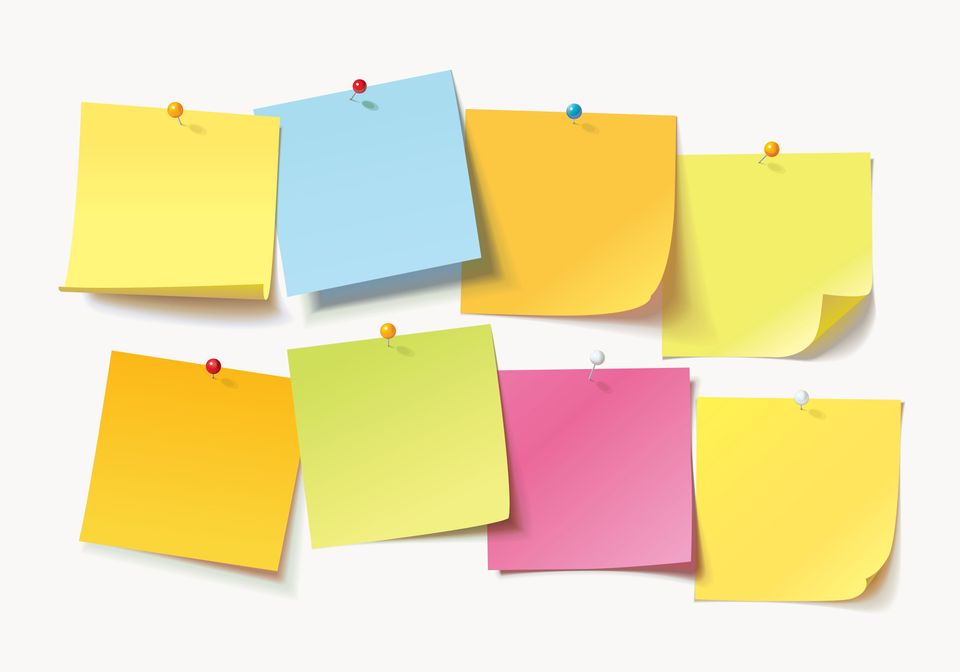 (Not) Sticky Notes
Sticky Notes are a great way to draw some targeted attention!  Feature a sentiment (such as "Save the Date") and reference it to a place inside an edition.
Cover: $50; Inside: $25