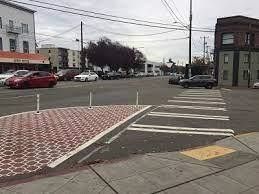 Line Striping on Main Street
AYER:
PUBLIC NOTIFICATION - The Town of Ayer DPW will be striping portions of the Main Street to provide traffic calming, bike accommodations, and improved pedestrian accommodations. The work will occur on the mornings of August 14 and 21 (weather dependent). Highlights of the work include: 
Dedicated bike lanes will be installed on the east and westbound travel directions between Washington and Columbia Streets
A painted channelization island will tighten the roadway at the intersection of Columbia Street
Painted curb extensions will be installed at several crosswalks and the intersection of Park and Main Streets
A fog line will be installed east of Park and Main Streets to tighten the travel lane
Painted stenciling in the travel lane of "25 MPH" upon approach to the downtown
Did you know the current travel lanes are approximately 16-feet wide on Main Street? Newly constructed East Main Street has 11-foot wide travel lanes!
The work will help introduce traffic calming and is a form of what's called 'tactical urbanism'. Furthermore, the Main Street corridor is currently in the early stages of redesign, where bike lanes and curb extensions are being considered. This will act as a preview of how these measures work on the Main Street. Note there will be public meetings for public input on the redesign, so keep on the lookout as we will need your input!
The Town of Ayer appreciates your cooperation during this important infrastructure project. If you have any questions, please call the Ayer DPW at 978-772-8240 (7:30am to 3:30pm) or email
DPW@ayer.ma.us
.