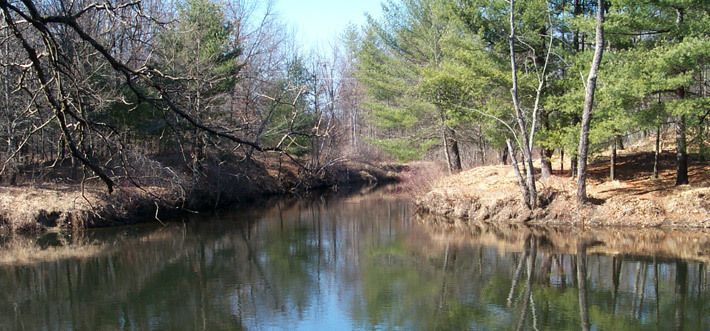 Explore the Oxbow National Wildlife Refuge: FREE NRWA Series for Families
HARVARD/DEVENS:
Come explore the Oxbow National Wildlife Refuge (ONWR) with Nashua River Watershed Association (NRWA) naturalists, Stacey Chilcoat and Gaynor Bigelbach. The NRWA will lead a series of three free family programs, each focused on a different habitat in this 1,697-acre Refuge that runs along almost eight miles of the Nashua River, including woodlands, wetlands, old fields, oxbow ponds, and river ecosystems. Join us for one, two, or all three programs.
Saturday, August 7 from 9:30-11:30am: Who Lives Here? ONWR in Harvard -

Explore wetland habitat looking for signs of mammals, bird spotting, identifying plants, and investigating what is living in wetland waters. Consider the interconnections of all species living in this habitat.

 

Saturday, August 28 from 3-5:30pm: Who Lives Here? ONWR in Devens

- Explore river habitat during a

guided paddling tour looking at signs of beaver activity, and abundant bird life. Also talk about the history of the land surrounding the river, used by humans for farming, recreation, military training, and now conservation.

Saturday, September 11 from 2-3:30pm: Who Lives Here?  ONWR in Devens - E

xplore upland forest habitat and riverside trails

looking for tracks, dens, scent mounds, scat and other clues that we are not the only ones using the trails and forest. 
These programs are appropriate for families with school-age children, Kindergarten and up.  Adventure backpacks will be available for families to use during the program including hands-on science tools such as binoculars and plant and animal identification guides. Come discover the wonders of our local federally designated national wildlife refuge! 
For the comfort of all, no dogs are allowed and appropriate COVID safety protocols will be followed.

Registration is required; space is limited.

Directions to the sites provided upon registration. To register, email

registration@NashuaRiverWatershed.org

, indicate which program(s) you wish to attend, number of people in your group, and ages of any children, as well as the best phone number where you can be reached in case of weather-related changes in program plans.
This free series is being offered by the NRWA in partnership with US Fish and Wildlife Service's Eastern Massachusetts National Wildlife Refuge Complex, funded by a grant from the Freedom's Way Heritage Association. The NRWA is a non-profit environmental organization providing water and land protection and environmental education programs in the 32 communities of our watershed. Learn more at
www.NashuaRiverWatershed.org
.