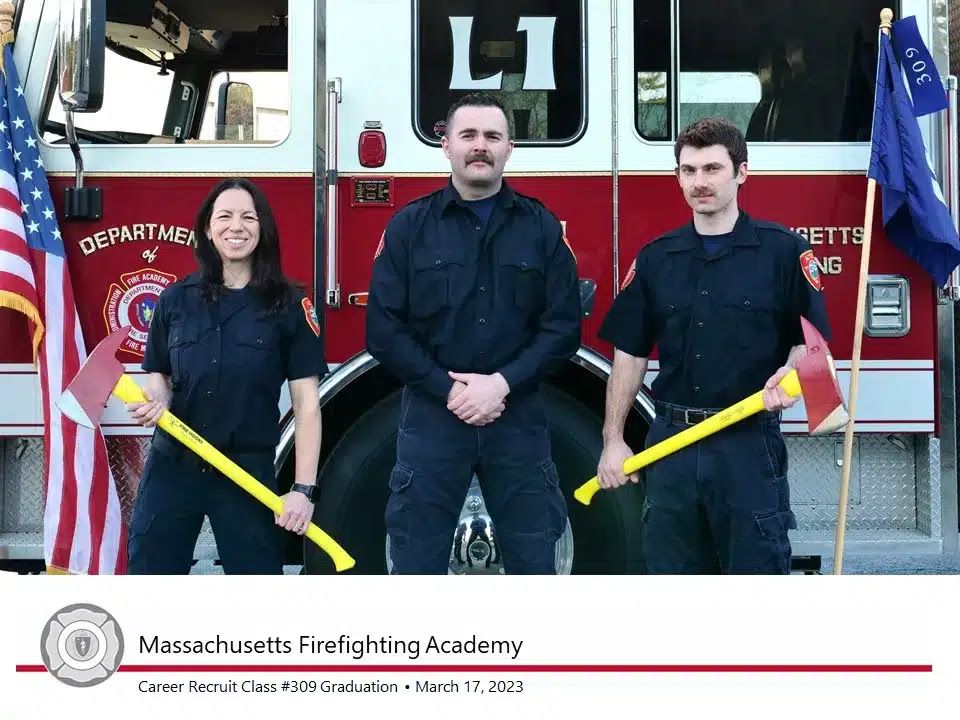 Three Acton Firefighters Graduate from Massachusetts Firefighting Academy's Career Recruit Program
ACTON: 
Chief Robert Hart
and the Acton Fire Department
are pleased to announce that
three Acton firefighters graduated from the Massachusetts Firefighting
Academy's Career Recruit Program.
Firefighter/ Paramedic's
Cote
Kilbride
and Justin
Mercuio
, and Susan Lombard
were among 23 firefighters who graduated from
the Massachusetts Firefighting
Academy's
Career Recruit
Program Class
309
.
Firefighter/Paramedic Lombard joined
Acton Fire in April 2022, Firefighter/ Paramedic
Kilbride
joined in May 2022,
and Firefighter/Paramedic
Mercuio
joined
in
August
2021.
The 10-week program prepares firefighters for basic firefighting, including search and rescue, ladder operations, water supply, pump operation, fire attack and life safety lessons, as well as non-fire responses and hazardous material response.
"
I would like to congratulate our
members
for their completion of the Career
Recruit
Program
," said
Chief Hart. "Our members are dedicated
individuals,
and I would like
to
wish Firefighter/Paramedic Lombard, Firefighter Kilbride and Firefighter Mercuio the best of luck in this next chapter of their careers."
At the Massachusetts Firefighting Academy, firefighter recruits learn a wide range of skills in an intensive 10-week program. Certified and more experienced firefighters lead classroom instruction, physical fitness training, firefighter skills training and firefighting practice. Students are given training in public fire education, hazardous material incident mitigation, flammable liquids, stress management, confined space rescue techniques and rappelling. Upon successful completion of the Recruit Program, all students have met national standards of National Fire Protection Association 1001.
PHOTO
: (From left)
Firefighter/Paramedics Susan Lombard, Cote Kilbride and Justin Mercuio.