Mount Calvary Community Supper Celebrates 10

th

Anniversary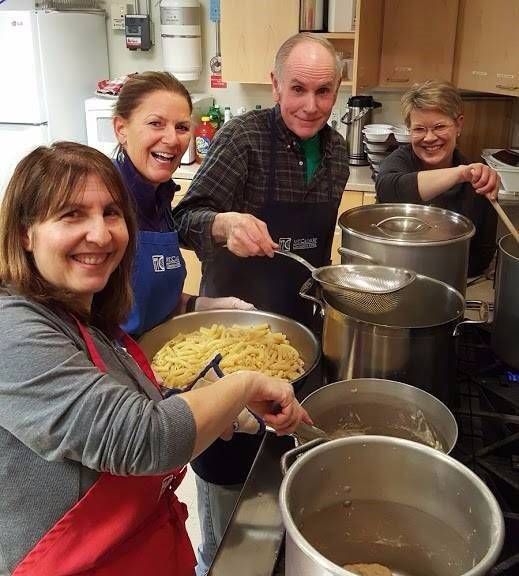 ACTON:
On April 6,
Mount Calvary Community Supper (
MCCS) will celebrate its 10

th
Anniversary by serving a 3-course, sit-down meal inside Fellowship Hall at Mount Calvary Lutheran Church. The evening marks a joyful return to the Wednesday night tradition that was temporarily suspended during the Pandemic.
Founded in April 2012, MCCS began as a collaboration between Mount Calvary Lutheran Church and a group of concerned citizens who wanted to alleviate food insecurity and social isolation in the local community. Since that time, more than 50,000 free meals have been provided in a safe, welcoming environment each Wednesday night. When COVID made it unsafe to gather in-person to dine, MCCS transitioned to a take-out format and continued to provide free, nutritious meals each week. The hard-working volunteers cooked and served 15,000 meals between March 2020 and March 2022. While excited to re-open the doors for a sit-down meal, the leaders of MCCS continue to monitor the threat imposed by the virus and its variants and will adapt the meal service, as needed, to maximize the safety of all the volunteers and guests.
Supper is open to anyone seeking a delicious meal and friendly conversation regardless of age, financial means, or residence. Join MCCS on April 6
at 4:15pm when they re-open their doors to celebrate. The main course will be served from 4:45-5:45pm. Take-out meals will no longer be available. In order to protect all volunteers and guests, everyone joining in must be fully vaccinated.
MCCS is very grateful for all the support it receives from the community. If you are interested in donating your time as a volunteer or making a tax-deductible contribution, please visit www.mtcalvaryacton.org/community-supper.