Mothers Out Front Enact Race Against Time

Call on Utilities to Provide Clean Heat Now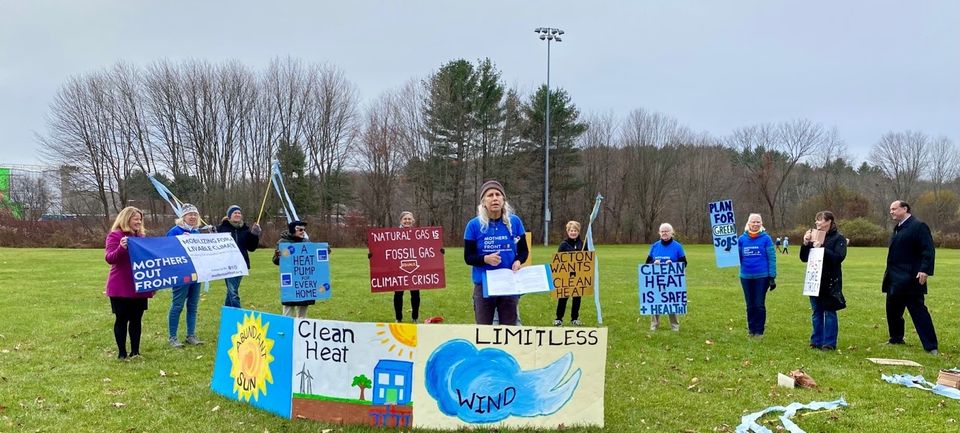 ACTON:
In a rousing display of support for clean energy, mothers and families rallied and raced recently in a spirited relay from Pittsfield to the Prudential Center.
Acton mothers and others took part in the Statewide Relay for Clean Heat by rallying along Elm Street with the new Triple Net Zero Twin school under construction in the background to celebrate the future of clean heat! 
Over the last 3 months Acton Mothers Out Front has been gathering postcards, signed by gas customers, addressed to the presidents of the state's three largest gas utilities. With participants from across the state, they delivered more than 3,000 postcards.  See attached photos of local residents as they prepared for the relay to National Grid the gas supplier for Acton.
"Our utilities need to lead on climate solutions to protect future generations," said Jean Cummings, local resident and mother
.
In a state where heating & cooling account for 30 percent of heat-trapping emissions, the mothers say utilities are moving too slowly and offering false solutions to families' needs for safe, renewable and affordable heat. "They are clinging to natural gas and variations on natural gas," added Judy Hodge. "Every day of inaction further threatens the health and safety of our children and grandchildren."  
State Senator Jamie Eldridge, Representative Tami Gouveia and Representative Dan Sena also spoke at the Acton rally.  Eldridge said, "As I am waving at my nephew (on the Douglas School playground), he is a reminder of the stakes here, of the next generation. We are already seeing the impacts of climate change across Massachusetts." Gouveia emphasized the positive, "We are strengthening a movement here so we can accelerate even faster toward green energy sources."
Relay participants criss-crossed the state
using electric vehicles, bikes, public transit, running and walking.
The route included stops in Pittsfield, Northampton, Hadley, Gardner, Acton, Concord, Waltham, Brookline, and Boston.  
The mothers are asking utilities to partner with their workforce, government and customers to provide clean, safe, affordable heat to all Massachusetts homes. Specifically, they want the gas companies to align with the
Mothers Out Front Future of Clean Heat Platform
.
This demands that utilities:
Offer heat pumps and other electric appliances to all homes and buildings;

Subsidize these technologies to make them affordable for everyone;

Replace leaky gas infrastructure with networked geothermal systems; and

Make clean energy available and affordable to all families, especially renters and low-income residents. 
Mothers Out Front
is a national movement of mothers working to ensure a livable climate for all children. The group brings together mothers in communities across the U.S. to help them advocate for transformative climate policies at the local, state, and national level to achieve a just transition away from fossil fuels to clean and renewable energy. Founded by two moms in 2013, the organization now includes 21 local chapters in Massachusetts and more than 35,000 mothers and caregivers across the country.

PHOTO: Jude Aronstein, coordinator of the Mothers Out Front Acton chapter, spoke about clean heat as represented by the Twin Schools Project in the background.