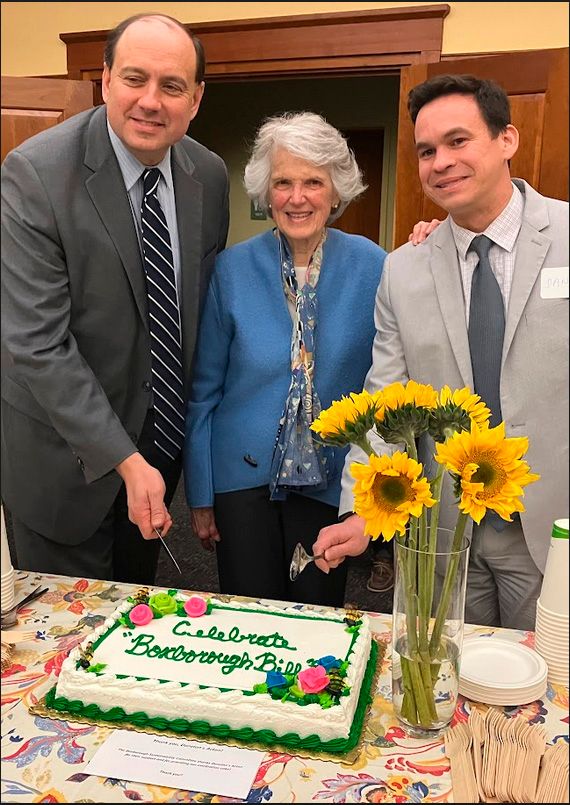 "Boxborough Bill" Celebration Held
BOXBOROUGH:
About 80 people gathered recently at Boxborough's Sargent Memorial Library, to celebrate passage of the "Boxborough Bill," legislation allowing the town to qualify as a Green Community.
Boxborough Sustainability Committee Chair Francie Nolde welcomed everyone to the event and thanked State Sen. Jamie Eldridge and State Rep. Dan Sena for initiating and supporting the bill, which Governor Charlie Baker signed last October.
Nolde explained that the bill, which Sen. Eldridge dubbed the "Boxborough Bill," now allows the town to vote at annual town meeting, May 8-11, to qualify to apply for grants to improve energy conservation in town buildings and vehicles.
Voters will be asked if they will accept an annual electric surcharge of an average of $5.04 per household to add to the Massachusetts Clean Energy Center which joins other state funds to pay for the program.
Residents may ask questions about the article and the next steps the town must take to becoming a Green Community at an open, virtual forum on April 11 at 7pm. The Sustainability Committee will provide a Zoom link and details soon.
Nolde added, "We have already met three of five criteria needed to join 290 of the state's 351 municipalities as Green Communities. Upon meeting those criteria, we will receive an estimated $130,000 to improve energy efficiency." She also asked citizens to go to EnergizeBoxborough.org to "find many opportunities to improve your carbon footprint."
Sen. Eldridge thanked the Sustainability Committee, and all Boxborough people working to improve energy efficiency, for "coming together" to encourage Rep. Sena and Sen. Eldridge to create a bill making it possible for towns like Boxborough, to become Green.
He
explained that because Boxborough is served exclusively by a municipal (consumer financed) light company, with not even one home connected to a public (investor owned) electric company, the town could not apply for state grants. The "Boxborough Bill" removed that restriction, and Sen. Eldridge emphasized that the bipartisan support for the bill on Beacon Hill proved "we can accomplish much by working together."
Rep. Sena thanked the Sustainability Committee and everyone present for contributing to the effort. He said, "Boxborough is leading in many ways to fight climate change." 
Attending the event to talk with residents were Peishan Bartley, Sargent Library Director; Bryon Clemence, Water Resources Committee; Kate Davies, Sustainability Committee; Heather Fleming, FreeBee Market co-founder; Rita Grossman, Boxborough Conservation Trust President; Marjorie Kamp, 2040 Book Club founder; Liz Markiewicz, Conservation Commission Chair; and Rebecca Verner, Planning Board.
Francie Nolde expressed gratitude to Energy New England's chief strategy officer, Vin Ragucci, and Littleton Electric Light Company general manager Nick Lawler and his team for their work on the Boxborough Bill. 
Because he could not attend the celebration, Ragucci wrote, "Thanks to the effort of Sen. Eldridge and Rep. Sena, the bill made its way from three separate bills … to a final bill … signed by Gov. Baker. This is a huge accomplishment and shows that with teamwork, we can make just about anything happen!"
Nolde also thanked library director Bartley "for opening Sargent Library for us on a night when it is usually closed."
Boxborough Fire Police Chief Paul Fillebrown estimated the attendance at 80 and expressed enthusiasm for the size and the "glow" of the gathering.