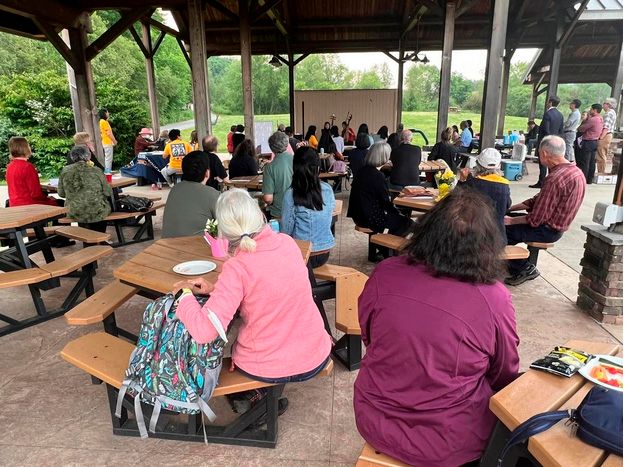 Acton Boxborough Cultural Council Grantee Reception
by Alissa Nicol
ACTON:
The
Acton Boxborough Cultural Council (ABCC) held its Annual Grantee Reception at NARA Park on Tuesday, June 6. Attendees enjoyed musical performances and also remarks by members of our local legislative delegation, Senator Jaime Eldridge and Representative Simon Cataldo. According to the ABCC website, "The Acton-Boxborough Cultural Council (ABCC) is one of 329 all-volunteer local cultural councils serving every municipality in Massachusetts. The legislature appropriates funds annually to the
Massachusetts Cultural Council (MCC)
, which then allocates funds to local councils.
The grantees in attendance were announced and had the opportunity to share details about their projects. A tribute was given by the ABCC Chair, Jin Yang, to two long-time ABCC members who passed away earlier this year, Dawn Wang and Nancy Evans. Dawn initiated and implemented the
China Trail Garden special 3-year project at the Acton Arboretum which recently won a design
award from the Boston Society of Landscape Architects,
and Nancy served as Chair of the
Our World
Film Series sub-committee for several years.
A total of $16,200 was allocated this year. Recipients included the
Acton Chinese American Civic Society, Inc. for the 2022 Boston Asian Music Festival, the
Acton Boxborough Regional High School  for the Orquesta de la Revolucion, the Chinese Family Network, Inc. for Hands-On Demos of Renewable Energy to Immigrant Families, Eileen Herman-Haase for Dancing Joy with Dance Caliente,
Nashoba Valley Chorale for Wake Up, My Spirit, Open Door Theatre of Acton, Inc. for The SpongeBob Musical, Deepika Prakash for DiwaliFest 2023, Hongbing Tang for a Digital Art Workshop, The Concord Orchestra, Inc. for the 2022 - 2023 Season and Music Director Search, and many more.
Details on the 2023 grant application cycle will be posted to the ABCC website this summer,
www.actonboxboroughculturalcouncil.org
. Applications are due in October each year.

PHOTO:
ABCC Grantee Reception at NARA Park. (Courtesy of Senator Jamie Eldridge)