Fibers of Life, Textiles from the Westford Historical Society's Collection

with Penny Lacroix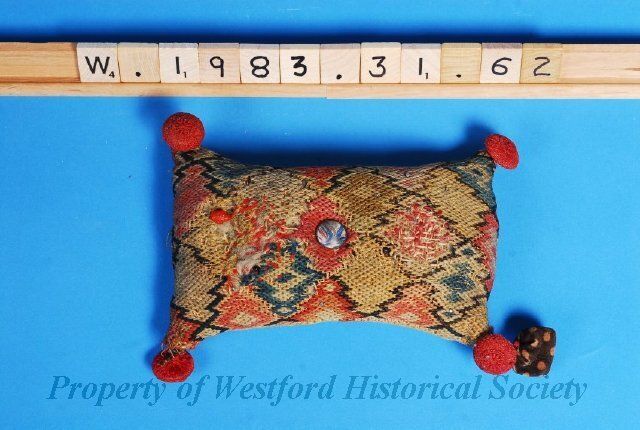 WESTFORD
: On May 5 from 7-8pm at Westford Museum, 2 Boston Road, there will be an exhibition - Fibers of Life.
This show and tell lecture is offered in cooperation with the Westford Museum & Historical Society. Their collection of local artifacts, from clothing and accouterments to linens and household items is typical of many New England towns. However, each one of these objects has its own unique and interesting story to tell. Penny Lacroix will highlight eight textile objects from the WHS collections. Each of the other pieces - some clothing, household items and accouterments - will be pulled from storage, where they are kept safe but are rarely seen. Attendees are limited to 15 guests. Those in attendance will be able to look at the objects up close and in-person while hearing the stories of their provenance here in Westford and how they were made. Register online at
museum.westford.org.
"Each of these artifacts has a history here in town," said Penny, former director of the Westford Museum. "By looking at them and learning their stories, it connects us with the people who lived in Westford before us."
Museum visitors may already be familiar with the so-called Robinson Pincushion, which is on display in the Museum's Military exhibit. It was made by the wife of Col. John Robinson (our local Revolutionary War hero.) Although faded, there is much to be gleaned from this unique piece of everyday Westford history.
Presenter Penny Lacroix is a weaver, spinner, teacher, historian, manager, learner, creator and general lover of all things fiber. When she's not actively learning something, she's sharing with others in one way or another –making something by hand, demonstrating at historic events, or teaching a class. With past careers as an engineer, a mom, a museum educator and a museum director, combined with her hobby as a historical reenactor, her worlds collide in the creation of textiles and the study of historic textile tools. Penny is co-chair of the Nashoba Valley Weavers' Guild and teaches weaving and spinning. She lives in Westford, MA with her husband and their furry friends.
The mission of the Westford Historical Society is to promote the understanding and appreciation of Westford's unique history to the community. By providing programming that features aspects of the daily lives, activities and achievements of Westford residents, we strive to expand and enrich understanding of how our town continues to evolve. We foster an environment of teaching and learning that strengthens our sense of community. We will collect, preserve and exhibit documents, photographs, objects and sites historically significant to Westford, and encourage outside efforts to do the same.