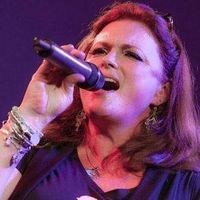 Chick Singer NIght Boston Hosts Showcase Benefit at PCA
WESTFORD
:
Chick Singer Night (CSN) Boston
 brings their popular live music showcase back to The Parish Center for the Arts for an all-ages show on March 18 at 7pm.  
The stage will feature eight talented singers/songwriters each performing a 15-minute set. Four of the eight performers are from Westford. Taking the stage are
Carol Wing
(Westford),
Dale Knowles
(Westford),
Kathryn Fitzgerald
(Westford),
Ali Manion
(Westminster),
Connie Diamond
(Lowell), along with the "R U Man Enough" featured artist
Russell Watts
(Ayer) 
and
CSN Boston Directors
Marcia J. Macres
(Westford) and 
Jennifer Truesdale
 (Arlington). Ticket link and more info about the performers can be found at 
http://chicksingernight.com/chapters/boston
.
The evening is hosted by Chick Singer Night Boston Directors Marcia J. Macres (pictured) and Jennifer Truesdale, both local musicians, entrepreneurs and music business owners. The artists are backed by the 
incredible 
CSN Boston Band
 made up of seasoned musicians 
Justin Kolack
 on bass,
Alizon Lissance
 on keys, 
Jerry Velona 
on drums, and
 Joe Musella 
on guitar. These musicians have to learn an average of 24 songs for each show in a short period of time.
Tickets are available in advance for $15 online at 
https://chicksingernight.com/chapters/boston
. If not sold out in advance, there will be tickets available at the door for $20. This is an all-ages show and is BYOB drinks and snacks. 
Since CSN Boston was created in 2004, they have seen so many venues close down, so proceeds from this show will be donated to The Parish Center for the Arts venue (pcawestford.org); 
a
visual and performing arts center providing concerts, art exhibits, community events, and more - a true Merrimack Valley gem.
If you cannot make it to the show, please consider making a donation via: 1) 
Venmo@ChickSingerNightBoston or 2) 
PayPal.me/CSNBoston
.