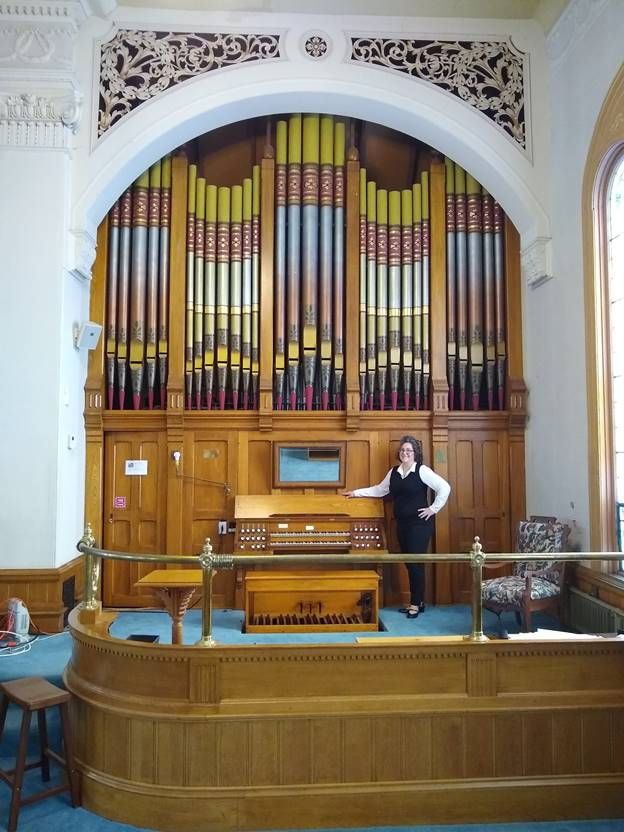 Robin Jubenville Organ Concert Gives Tribute to Philip Beaudry
HUDSON:
The Unitarian Church of Marlborough and Hudson is pleased to announce that Organist and Music Director Robin Jubenville will perform an hourlong concert of classical organ music in tribute to Philip Beaudry, former UCMH organist and Master Organ Builder. Over the course of his career, Beaudry built, rebuilt, restored, and maintained organs in over 40 churches, including the one at UCMH. Jubenville's teacher, internationally acclaimed organist James David Christie, knew Beaudry personally and has said of him that "Every organ Phil touched turned to gold."
The organ at UCMH was built in 1891 by Geo. Ryder as his Opus 161 and presented to the church by Joseph S. Bradley, Edmund M. Stowe and Russell B. Lewis in 1892. Philip Beaudry originally rebuilt the organ in 1968.  Beaudry was known to have a particular skill in the area of voicing, and he certainly brought this skill to bear when he rebuilt the wind system of the UCMH organ in 1991. Christie has said that he considers the sound of the organ at UCMH to be among the best organs in the region – "a hidden gem."
"When I first heard the organ at UCMH I fell in love with the sound of it," said Ms. Jubenville. "I think it's important to acknowledge and pay tribute to the person responsible for that sound." Ms. Jubenville first came to UCMH as organist in 2008.
The program will be presented on June 17, 2023 at 4pm in the Sanctuary at the Unitarian Church of Marlborough and Hudson (UCMH), located at 80 Main Street in Hudson. The concert is free and open to the public, with donations gratefully accepted. Tickets are available online at BeaudryOrganTribute.eventbrite.com. Suggested donation is $10 per person or $20 per family. For more information, please contact the church office at 978.562.9180 or via email at administrator@ucmh.org.
PHOTO:
Organist Robin Jubenville at the organ in the sanctuary of the Unitarian Church of Marlborough and Hudson

.