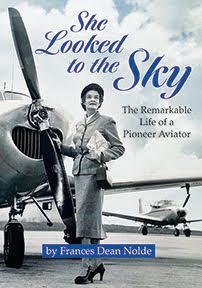 Boxborough Author "Looked to the Sky"
BOXBOROUGH:
Boxborough author, Francie Nolde, has written a biography-memoir about her mother who had a remarkable life as a pioneer aviator during WWII and the Cold War. Nolde will give a reading at the Boxborough Sargent Memorial Library on December 7 at 7pm. Bring a book from The Silver Unicorn Bookstore at 12 Spruce street, West Acton, for signing.
Nolde writes: "
She dreamed of becoming an opera star. She did perform in a Gershwin musical with Fred Astaire, and she did become the star of a 1930s radio serial. But after Frannie married a wealthy textile manufacturer and became the mother of seven children on his Pennsylvania estate, she looked to the sky."
Frances Dean Wilcox Nolde became a pioneer pilot, World War II Civil Air Patrol (CAP) commander, winner of an early transcontinental all-women's air race, and eventually a colonel in the CAP in charge of the women's program. After moving to Washington, she became responsible for planning how America's civilian airplanes would defend the country should the Cold War become hot.
A glamorous, ambitious proponent of women aviators, Frannie challenged male dominance at a time when home, career, motherhood, and personal success created both joy and trials in her life and the lives of those she loved. Her public life demonstrated her capabilities while her personal life revealed her flaws.
In 
She Looked to the Sky,
 her youngest child, Francie Nolde, tells her mother's story — and her own.